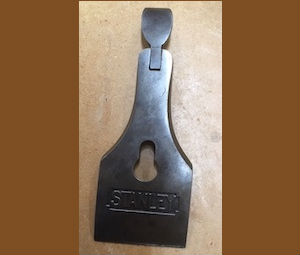 "Vintage Stanley" Facts About Old Planes
There's so much information on the internet as well as written sources on Stanley planes it would be silly for me to try to write up some lengthy blog on Stanley planes. Instead, I'll just point out a few interesting facts and if you really want to dig into it, I'll provide a list of some of the best sources for further research.
Stanley Planes has its origin in 1843 when Frederick T. Stanley founded The Stanley Works. Located in New Britain, Connecticut, his company manufactured hinges, bolts and other door hardware. As time went on there was the merging of some businesses and the take over of others, but by the late 1860s metal planes became popular and Stanley managed to corner the market. Leonard Bailey was the greatest contributor to Stanley's success. His 1867 patents for plane improvements contributed to the beginning of what we know of today as Stanley type planes. There are different styles of Stanley planes, but Bailey is by far the most common. Another style is the Bedrock, and I find the origin of the Bedrock a bit confusing. In some references I've seen it listed as one of Leonard Bailey's patents; in other sources, the patents are listed under other names. The differences between it and the Bailey seem to be pretty minimal with most having to do with the frog and the way it mates with the bottom casting. Most references to the Bedrock indicate it is a slightly better style, but I've never compared the two. Currently, Lie-Nielsen owns the patient and makes very high quality and expensive Bedrock style planes. More information on the Bedrock can be found in the references below.