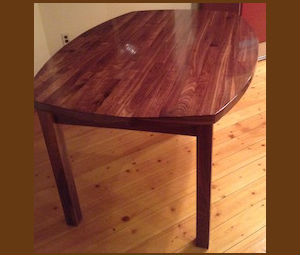 "Diresta Inspired Walnut Table"
Eight place table for the cabin.

I built this walnut table for the cabin after I saw Jimmy Diresta build a conference table with strips of wood glued to a sub-straight. Watch his video on Youtube to see how Jimmy made his large meeting table https://www.youtube.com/watch?v=ue6zQsR9GkA. I used two sheets of birch plywood as the sub-straight and solid walnut for the 2" think legs and apron. Then I cut lots of 3/16" strips to cover the top and sides. I used a curve shape so I cut the side pieces about 1/8" thick so I could bend them around the curves. When all the strips were in place I used a trim router to cut even with the sub-straight. I used epoxy with sawdust to fill in any holes or gaps and finished it off with eight coats of wiping varnish. It turned out great.