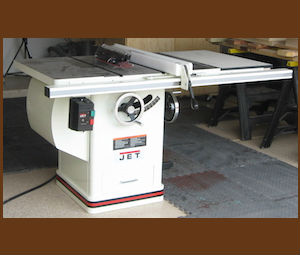 "Making a Crosscut" Miter Saw or Tablesaw.
Many of the Youtube makers I watch use a miter saw to make most of their crosscuts. I actually recently purchased a Jet compound sliding miter saw, but I use it primarily for cutting down rough stock. I use my tablesaw for most crosscuts. I feel like I get a more accurate cut that is easily repeatable with a stop block.
I usually use an aftermarket miter gauge from Inca. It is an excellent choice, but I also use a crosscut sled I built after watching Marc Adams's "Tablesaw Techniques" posted on finewoodworking.com. It is an excellent series, and he has a simple way to square up the sled.