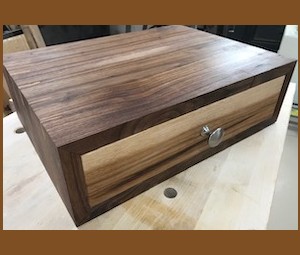 "Tea Box" Walnut & Hickory
I spent this past weekend working on yet another project for the cabin. It was small in comparison to most of the cabin projects approximately 16" x 12" x 5". It's a little tea storage box made from some leftover materials. There are a few flaws in the walnut case because I didn't have enough material to cut it out. It still looks okay.
It is pretty simple and it didn't take long. The walnut case has mitered corners with hickory splines in the corners. Unfortunately, the splines are barely visible. The drawer is made of hickory and runs on thin wooden rails--waxed to reduce friction. I tried to get a really nice drawer fitting but dang that is hard--it works but it is not a piston fit as I'd like. I used some thin oak lumber I had to make the dividers on the inside. I was seeing how creative I could be without using any new lumber.