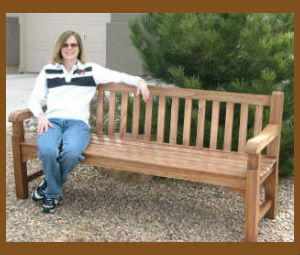 "Resources For Any Woodworker" Books, Magazines, Blogs, Online Educational Videos
There are countless resources available on woodworking. Overtime you'll find you favorites. Check out some of mine to get you started.

I've spent a lot of time learning as much as I can about the craft. I've referenced countless books, magazines and online videos. On this page, I've includes some of my favorites; they are the ones I've found to be most useful. Check them out for more woodworking information.
Magazines
I've pretty much tried out every magazine on woodworking. At one time I believe I had eight different subscriptions, but I've limited myself to two now. Fine Woodworking is by far my favorite. Sometimes their articles are pretty advanced, but I love to challenge myself. They provide exceptional instruction and detail. Woodsmith is my other favorite. Woodsmith is more for the beginner and early intermediate woodworker, but I find great tips and new ideas every time I get their magazine. Additionally, they have some great patterns you can build as is or modify to your own needs.
Books
Woodworking Basics - Mastering the Essentials of Craftsmanship - An Integrated Approach With Hand and Power Tools
Regularly Updated Websites
The Wood Whisperer: Marc Spagnuolo has an amazing website with free educational videos and articles. He also has a pay option, and it is worth every penny. He goes through in great detail every portion of a build from design to finishing in video format. He is very professional and a precision woodworker. It is sometimes frustrating for me because his level of perfection still eludes me. Recently he has been getting away from the free videos, but he has about four years of videos archived on his site. It will take you awhile to get through them, and they are packed with great woodworking skills.
Fine Woodworking also has an amazing online reference. Many of the resources are free, but the paid online resource is very reasonable and worth the cost. As an online member, you have access to all their articles and videos. Additionally, if you're new to woodworking, they have great Starting Woodworking series for free.
Matt's Basement Workshop: Matt Vanderlist has a great site with ten years worth of woodworking videos; he may have been the original video podcast woodworker. He is very down to earth with some great tips and projects for the average woodworker. He is pretty dedicated and puts up a new video nearly every week.
Garage Woodworks: Brian Grella is a little unconventional by the standards I've listed above, but he has a new video every week and has great ideas for shop jigs and tools. He also provides a lot of detailed videos on calibrating your tools. He is worth watching.
Woodsmith Magazine: Log on to Woodsmith.com and sign up for the weekly etip. It is free and each week they provide some good tips. Often it is pretty basic stuff, but sometimes they have some great ideas.
Woodworkers Guild of America by Wood Magazine offers a weekly video tip and some detialed archived videos as well.
The Bois Shop: Rob Bois has some amazing builds on his website. His videos are professional and entertaining. While he calls himself a hobbyist, he is a great craftsman. His archived videos provide great information and skills. I have also found him to be very inspirational.
Podcasts
WoodTalk is Marc Spagnuolo, Matt Vanderlist and Shannon Rogers. They put together a pretty good podcast with some great information. I listen to it regularly.
ShopTalkLive is Fine Woodworking Magazines podcast. The offer a new show every other week.
Supplies
You can find most anything you need on Rockler, Woodcraft or Highland Woodworking when it comes to woodworking supplies. Rockler is my go to supply store. I've found Woodcraft to be slightly more expensive and Highland even a bit more so, but sometimes I turn to them. There are also hundreds of other places for specialty items. However, I've discovered I can get almost anything you can image on Amazon.com and more often than not it is cheaper. Check out some of the items I recommend from Amazon.