13 April 2017 Hits: 1201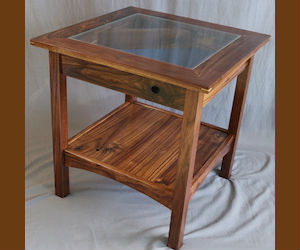 "Military Display Table" Walnut Table with Glass Cover.

I made this craftsman style display case for a friend's husband. It has space in the upper left corner for the flag he received upon retirement for his years of dedicated service. All his military medals and memorabilia will be displayed proudly in this beautiful walnut table. The mitered corners are secured with a small ash spline to give this classy project just little bit more character. I also built a smaller version -- just a case to be hung on the wall for another Air Force friend retiring this fall.