8 Nov 2013 Outfeed Table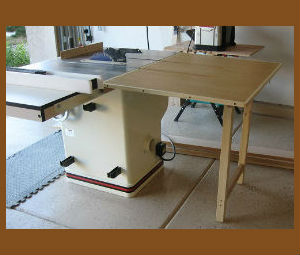 "Outfeed Table for Full-Sized Cabinet Table Saw" Provides safe platform for catching cutoffs from the table saw.
In order to get the most out of your table saw by the safest and easiest means, you must have some sort of an outfeed device to support the work piece and waste piece through the entire cut. When I was still using my small portable saw I used a cheap roller stand. It worked okay, but when I got my new full-sized cabinet saw I wanted to build a real outfeed table. However, I didn't want to take up a lot of space in my small workshop. I found a pattern from Woodsmith Magazine that was strong and big enough to do the job, but it is also easy to remove and store when I need more space. I made a few changes to make it fit my needs, and it has been the best shop addition I've made so far. I used ¾" MDF for the top framed with hardwood. I build the legs and cleats with leftover pieces of hardwood. I cut miter gauge slots with a router, and then I put on a couple coats of polyurethane followed by a coat of wax. I put it together in just a few hours.
I cut the MDF to the size and glued on the hardwood strips for the frame. I put a slight curve on the corners; I knew I would run in to them, and I didn't want a sharp point in the thigh. I cut an 1/8th roundover also to soften the edges. I then secured a narrow cleat to the saw. I measured the exact location and secured the connecting cleat to the MDF. The two legs were cut from an 8/4 piece of poplar with a roundover on all edges. I secured a support piece on the MDF and then connected the legs with hinges so they can fold in for storage when the table is removed from the saw. If you would like to get a copy of the plans I adapted you can find them at http://plansnow.com/dn3092.html If you are in need of a quick solution -- a roller stand works great. Amazon.com offers a good variety.