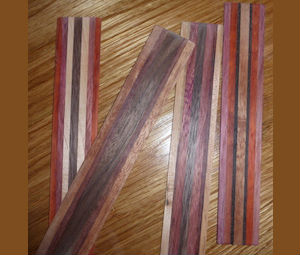 "Exotic Wood Bookmarks" Beautiful strips of exotic wood make up these bookmarks.

Cutting the very thin strips was tricky and I had a very serious kickback. I have two recommendations to avoid the problem: 1. use a new zero clearance throat plate in the saw so there will be less chance of the thin piece sliding down and kicking back & 2. use feather board to help hold the piece next to the sacrificial fence.
I used left over padauk, purple heart, wenge, walnut, maple and mahogany from other projects to make the strips. It was an idea I saw when I was selling books in Denver.