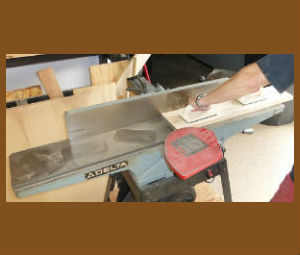 "Start with a Perfect Board" Make a perfect project with perfect boards.
It is impossible to build a beautiful piece of furniture with a bad board. Curved and twisted boards are a common problem in woodworking. If you don't overcome the problem from the beginning it will plague your project through its very frustrating or more likely unsuccessful end.
Almost all boards from the lumberyard or home center have at least some measure of warp or other distortion. After they acclimate to the humidity level in the workshop, they tend to warp even more. To take care of this problem, some easy preliminary work must be done—called milling. It's done with a jointer, planer and table saw. When you're done the six surfaces of the board should be flat, straight and perfectly square. There are only five steps required to accomplish this.