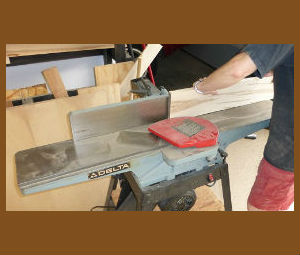 "Prefect Boards Part 2" Joint, Plane, Saw
Step 2: Use the jointer to straighten and smooth one edge of the board, making it square to the face you just planed. The planed face goes against the jointer fence. If the edge has a front to back bend be sure to place the concave edge against the jointer table. This is the same as for step 1. It ensures the board won't rock because two points are always in contact with the table.
Step 3: Now it's time to work on the remaining face. It should be flat and straight, parallel to the opposite face. Your first instinct might be to use the jointer again. After all, it excels at making boards flat and straight. But unless you are very lucky the jointer won't make the second face parallel to the first. Only a thickness planer can do that. Once again check the grain direction and make light cuts, no more then 1/32 inch. Feed the board with the unplanned surface faceup. Make passes until the entire surface is planed and reduced to the desired thickness. The board now has both faces flat, straight, and parallel and one edge that's flat, smooth and square to the faces.