23 August 2018 Hits: 516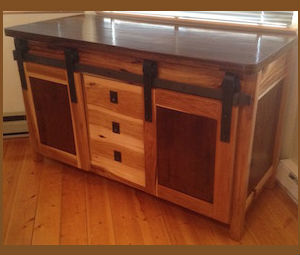 "Hickory & Walnut Kitchen Buffet" Barn Door Slides.
I started building this kitchen buffet with barn door style slides after I saw a similar picture on Instagram. I drew up some plans in Sketch-Up and made it fit the space I had available in the cabin. This project took a long time because I moved the shop in the middle of the build.
I built the frame out of hickory and walnut using a frame and panel for the sides and doors. I used mostly floating tenons for the joinery since I just build my horizontal mortising machine. It made cutting the mortises super easy and the joints are very strong.