19 February 2018 Hits: 564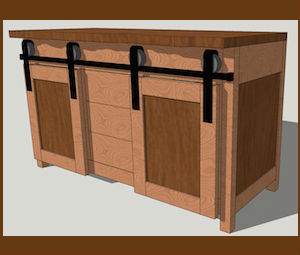 "Hickory & Walnut Kitchen Buffet"
With Barn Door Style Hardware.
My next project will be this kitchen buffet for the cabin. It will provide us with precious storage for kitchen items. Based on the SketchUp image displayed to the left, I plan to make the lighter color hickory and the darker color walnut to match the theme of all the other furniture I've built for the cabin. I had hoped to use a live edge piece for the top to match our kitchen bar, but a slab that large is way too expensive. I may use the Jimmy DiResta style I used for the dining room table to bring the pieces all together. Stay tuned as this project develops. I'll have plans available in the next few weeks as I complete the project.