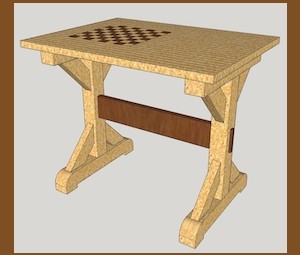 "Butcher-Block Table" Customer Commission
I've been commissioned to build a transportable kitchen island in butcher-block style. My customer and I went back and forth with a few design ideas until he decided what would work best for his space. I provided Sketch-Up drawings like the one you see here to give him an idea of what the finished design would look like.
The island will be 36" wide and 48" long. It will be approximately 40" tall to incorporate bar stools. The chessboard section will be end grain and the rest will be narrow face grain. Maple will be the primary wood with walnut used as the contrasting wood for the chessboard and for the bottom stretcher.