06 February 2016 Hits: 2234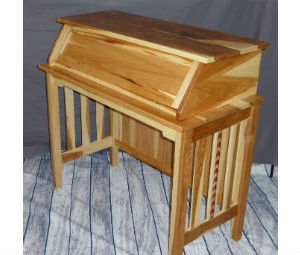 "Three Desks: Alder, Hickory & Oak" FroggyBuilder Inlays & Craftsman Style Design.
In addition to being a woodworker, I'm also an author and as such I needed a desk for the cabin. Because the cabin is so small I needed a compact desk but one that had enough space to set up my laptop and store a few office supplies. I often design my own furniture after over eight years of building and designing but several years ago I found a pattern on www.PlansNOW.com by Woodsmith. It was a small secretary desk designed for a laptop so I made a few changes to jazz it up a bit and make it fit perfectly in the space I had available in the cabin. Read more to get some details.