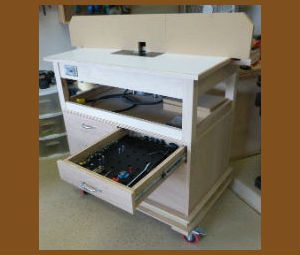 "Solid Shopmade Router Table" Four drawer router table provides solid table and plenty of space.
My first of many new pieces of shop furniture is by far the most important. It is an incredibly sturdy mobile router table. I was using a small portable router table that was small and very wobbly. I was time for a new one.
The open area under the solid large top allows for easy access to the router. It also has four large drawers for storage for bits, wrenches and extra routers. The strong four inch casters make it easy to move around. The base is rigid with solid maple ribbing. The top is set over a system of thick maple stringers that will keep the tabletop sag-free. It has a white laminate cover for a smooth surface. It was pretty easy to build with only a few challenges. I used birch plywood with butt joints for the case and dowel joints for the top frame.