16 March 2018 Hits: 4902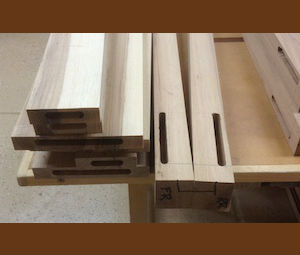 "Loose Tenon Joinery"
Vs Traditional Mortise & Tenon.
Loose Tenons, a joint that uses a separate piece of wood as the tenon inserted into mortises cut into both pieces of wood to be joined, have gotten a lot of attention over the past several years particularly after Festool came out with the Domino in 2006, a tool that creates both mortises to receive a factory-made tenon known as a Domino. There are certainly a lot of opinions on the topic in the woodworking community. I guess it must be time for mine.
Many purists insist on sticking with the traditional mortise and tenon. It has been one of the most popular joints in furniture building since—well, pretty much since the beginning of furniture building. I'm clearly not a purist because I love loose tenon joinery. I first fell in love with it after I saved up enough money to buy a Festool Domino (yes, I saved for a long time). I couldn't justify buying both the regular one and the XL, so I bought only the small one (it was cheaper). With my largest tenon/Domino only being, 10x50x24mm (~3/8"x2"x1"), I often found myself in situations where the little Dominos weren't going to provide the strength, necessary and safe for the piece of furniture I was building. But I wanted the ease and speed of the loose tenon joinery.