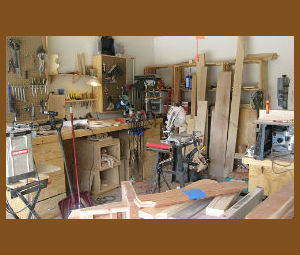 "The Shop Remodel" Making the best of my small space.
In Sep 2008, I retired in Utah from the Air Force after 20 years of moving around the world. By Dec I had landed a new job in New Mexico, and by February we were living in a small apartment in Albuquerque. After what seemed like forever, we found the perfect home for us, and it just so happened to have a three-car garage. I was pretty excited because that meant my shop tools could have a permanent home, and I could have a small work space. I could even pull the truck out and have more space when the project called for it – or so I thought.
After we finished the walk-through and the keys were ours, I decided to pull the truck in to see how it looked in its new home. It didn't fit – I even backed it in all the way to the wall – still no good. What?!? This is New Mexico, they drive trucks here – are you kidding me! Well the only solution to this problem was to create a woodworking shop. I immediate identified the positive side of this situation.