16 August 2018 Hits: 6055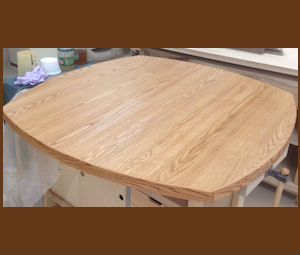 "Red Oak Table" Using Pore Filler.
For this project, I tried a technique I'd never used before. I used pore filler to fill the deep wood grain of the oak table top. I saw April Wilkerson use it on an oak desk she built, and it looked amazing. Check out her project https://www.youtube.com/watch?v=1q6jBO-ZByw. She uses a different building style than I do, but she builds fun projects. Plus, I always find inspiration from watching YouTube woodworkers/makers.
When I decided to use red oak to build the table, I was concerned about the deep pores in oak. As stated in Woodsmith magazine, "No amount of planing, scraping, and sanding can change the fact that wood is a porous material" (Understanding 46). I hadn't given much thought to a solution until I saw April's video. She used a water-based product and that's a good option, but I normally use oil-based and oil gives you more working time, so I did some research and found a good option from Old Masters (link below). "…they can be either oil or water based. But regardless of the name, these products all contain three basic ingredients: a binder, a bulking agent, and a solvent" (Understanding 46).