31 October 2015 Hits: 5455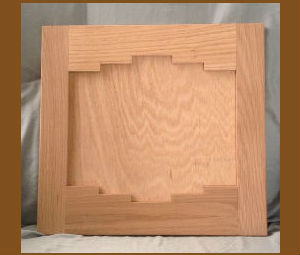 "Oak Frame & Panel Doors with SW Style Flare" Anasazi pyramid cut with a dado blade.
At the end of the summer I got a call from a customer who wanted to put new Southwestern style doors on her solid oak kitchen cabinets. I took on the project and built 17 doors and 8 drawer to put a face lift on the original cabinets of her beautiful adobe home.
I picked out some nice pieces of 4/4 white oak and after I squared up the boards with the jointer and planner, I ripped all the rails and stiles to proper width at the table saw. Then I set up my miter guage on the table saw and cut all the rails and stiles to the proper length making sure to always keep the pieces to each door organized. There were several duplicate sizes, so I made piles labeling each with blue tap. Then I just cranked them out.