09 April 2018 Hits: 3413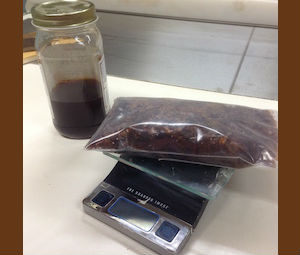 "A New Look at An Old Finishing Technique" Shellac as an Alternative to Oil Based Finishes.
Up until a few months ago, I had one go-to finish. In a previous blog, I wrote about using a three even-part blend of polyurethane, mineral spirits, and boiled linseed oil. I apply it as a wiping varnish increasing the ratio of polyurethane with each additional coat. This is a great solution, and I'll likely still rely on it for many projects, but I'm adding another option to my finishing solutions—shellac—primarily because it is fast, easy and reasonably priced. Waiting for each coat of my oil blend to dry takes days, so I started using shellac to speed up the process.
According to Mario Rodriguez, "Shellac gets a bad rap for durability…" (Rodriguez 38). However, the great thing about shellac is it can act as a seal coat (dewaxed only) for any finish. Therefore, I can put an oil-based finish on top. Use only DEWAXED shellac as a seal coat. "Since dewaxed shellac bonds beautifully with every other finish, you can always follow it up with a wipe-on varnish to protect vulnerable surfaces" (Rodriguez 38).