29 November 2013 Hits: 4642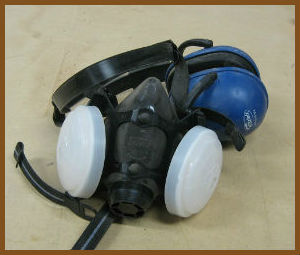 "Dust Protection" Find good dust protection.
I don't have a dust collection system. I know I need one, but it is not quite in the budget just yet. I use my shop vacuum and that helps, but my shop is always very dusty. Until I can make arrangements to be able to collect the dust at the source, I know I need to wear some type of dust mask. I hate them as much as the next person, but I know how important it is to wear one. I have tried all kinds from paper masks to heavy obtrusive face respirators. I didn't feel like the paper masks were very effective. I have a pretty small head so it was difficult to find a respirator that would fit well and wasn't too heavy. Finally, I found one that works great, the North 770030 Silicone Respirator Half Mask – it is a Honeywell product. When it is used with the particulate cartridge it is light and unobtrusive. It also fits a gas and vapor cartridge.