10 February 2020 Hits: 2416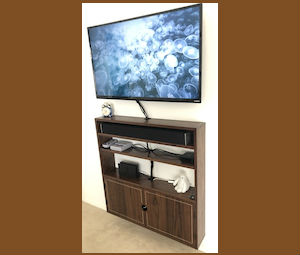 "Custom Build" Walnut with Maple String Inlay
Custom furniture is not cheap and I completely understand why most people don't want to pay the extra cost. In most situations, you can find a great piece of furniture that will meet your needs for a fraction of the cost of a custom-built project. But if you find yourself in need of a unique piece for a specific location and a specific function, then often custom furniture is the only way to get exactly what you need.
I just recently built this custom piece for one of my regular customers. We've worked together on several projects and this was just another of the great projects I was given the opportunity to help them with. It is an electronics cabinet built to fit under the TV in a very small room. It was critical that it fit exactly and not take up any more space than necessary. This walnut 34" by 34" cabinet is only 6" deep. It's mounted on a French cleat to allow it to hang on the wall to avoid the baseboard and to ensure it would be stable given its narrow shape. All the electronics are tucked neatly behind two doors with a hole cut for handles (this increases the airflow for cooling the electronics). It has a 1/16" string inlay around the door to give is just a subtle bit of color.
Click READ MORE to see a larger image.